Application
An economical access control solution which is often used to control one-way pedestrian traffic. The WHD-05 swing gate can be supplied with two types of swing panels: 650 mm or 900 mm.
Delivery set
gate post
remote control panel
swing panel 650/900 mm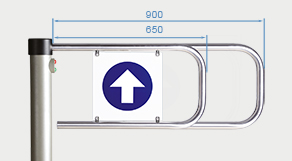 Versions and Colour options
Design
Fail-safe operation – free swing upon power loss
Features & Benefits:
The WHD-05 swing gate is operated from the remote control panel included in a standard delivery set or a wireless remote control (optionally) and can be easily integrated into most access control systems.
To pass in the permitted direction, the entrant has to push the swing panel. Once the passage is complete, the swing panel automatically returns to the home position. Smooth rotation of the swing panel is ensured by a hydraulic damper.
| | |
| --- | --- |
| | |
| Red/Green status lights | Cable remote control panel |
The model features a built-in control unit with power supply, which provides fail-safe operation of the gate.
The standard WHD-05 gate is a bi-directional unit but it may be configured to a single direction gate by means of a mechanical rotation limiter included in the standard delivery set. The limiter allows to set one-way turn of the swing panel and provide one-way electric control.
The gate is a normally-open device – in case of power failure the swing panel is opened freely in both directions (except for the direction blocked with mechanical rotation limiter).
Technical Specifications:
DC operating voltage
12±1.2 V
Consumption current
max. 1.2 A
Power consumption
max. 14 W
Throughput rate (in the single passage mode):
with ASG-650 swing panel
with ASG-900 swing panel
22 persons/min
20 persons/min
Passageway width:
with ASG-650 swing panel
with ASG-900 swing panel
700 mm
950 mm
Electric shock protection class
according to GOST R IEC 335-1-94
Ingress protection rating
IP41 under EN 60525
Operating temperature range
+1°C to +45°C