The TTR-07 compact tripod turnstile features anti-panic barrier arms automatically falling down by alarm signal or at a power loss, which makes it possible to immediately clear the passageway in emergency situations.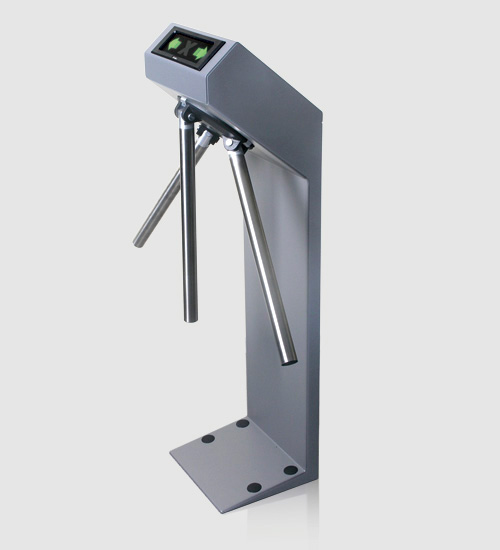 Automatic anti-panic folding arms
Application
The TTR-07 turnstile with automatic anti-panic folding arms is suitable for indoor application at entrances of commercial, public and industrial organizations providing distant clear of passageway in case of emergency.
Delivery set
turnstile with built-in electronics
remote control panel
Features & Benefits:
With its compact design the TTR-07 can be applied at entrance points of various configurations.
The turnstile performs emergency folding of barrier arms by remote signal from an access control system or at a power loss. When the power is restored to bring back the folded arm into operating position (blocking the passage) just lift it manually.
The TTR-07 can be operated from the remote control panel included in a standard delivery set or a wireless remote control (optionally) and can be easily integrated into most access control systems.
| | |
| --- | --- |
| | |
| LED display | Cable remote control panel |
As the turnstile can be preset to operate in either pulse or potential control mode, it ensures compatibility with virtually any access control system.
An operating mode for locking or opening the turnstile can be independently set for each passage direction. The turnstile comes with built-in optical arm rotation sensors to ensure accurate registration of each passage through the turnstile as well as the passage direction.
The TTR-07 turnstile is designed with the control logic board installed inside the turnstile housing. After each passage the barrier arms are automatically returned to home position by a self-centering mechanism. A built-in hydraulic damper makes the turnstile operation smooth and quiet.
Available Options:
A dedicated «Fire Alarm» control input allows connection of an emergency unlocking device (e.g. fire alarm control panel, emergency button, etc).
The turnstile is provided with relay outputs for optional connection of an intrusion detector and a siren as well as remote light indicators to show if access is refused or granted.
If required, the turnstiles can be completed with matching railings.
Technical Specifications:
Operating voltage
12V DC
Throughput rate
(in the single passage mode)
30 persons/min
Overall dimensions (LxWxH)

housing
housing with barrier arms

280×260×1050 mm
740×688×1050 mm
Passage width
500 mm
Ingress Protection Rating
IP41 under EN 60529
Operating temperature range

from +1 °C to + 40 °C